Farsi (Persian) Voice Over Agency
We are the first company in the world to offer online localization services for the Farsi language. Unlike other companies who only play the role of middlemen, Farsi is our specialty. Our translators and voice talents are highly experienced, chosen through a strict selection process, and have been working with us for a long time.
The advantages of choosing to work with us:
Your project will be handled by experts with at least 10 years of experience.
Our quality control team will check everything twice before delivery.
the quality of the content and the deadline are equally important to us.
We have the flexibility to adjust to your budget.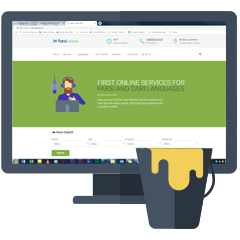 Farsi Voices Agency Services
Farsi (Persian) Voice Over Company ordering steps:
Send us the content and request pricing.
After precise evaluation, we will get back to you with the estimated price and time of delivery.
After the pricing is agreed upon, you transfer the fee to us.
Sit back with the ease of mind that we will deliver the completed project to you on time or sooner that promised.
You will have one week after delivery to request any changes you see fit.